Growing Methods:
Wholesome Food and
a Healthy Environment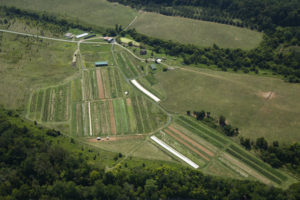 Here is a link to the short film "Starting with the Soil at Waterpenny Farm"  It features Rachel talking about our approach to farming and caring for the soil.  It also tells some of our farm's history and our business philosophy.  It was made made at Waterpenny Farm in June 2016 by the Natural Resources Conservation Service (NRCS) and the Virginia Cooperative Extension.
We use ecologically based sustainable farming methods on all our crops.  All crops are pesticide-free.
| | |
| --- | --- |
| We use only Organic inputs and no pesticides in our fields. We fertilize using cover crops, composted animal manures, and a foliar fertilizer made of fish. | |
| To conserve water, we use "drip" irrigation with plastic mulch on most crops. | |
| To maintain soil health, we till as little as possible, plant cover crops, and rotate crops. | |
| Weeds are kept down by mulching, hoeing, and hand weeding. | |
| We plant areas of our farm as habitat for beneficial insects. | |
| Insect pests are kept from crops using row covers and occasionally removing them by hand. | |
These methods require extra work and planning, but it's worth it for us and our customers to know that our produce is as healthful as it can be and is grown in harmony with the environment.