Welcome to Waterpenny Farm!  We've been farming in Sperryville since 2000.
Summer produce like squash, Blueberries, cucumbers, beets, fennel, and herbs are coming in, and we still have lots of greens, too.   lettuce, 3 kinds of kale, chard, and herbs available for sale in our green barn.  Come to our self serve stand in the barn any time for greens and herbs as well as jars of Red and Orange tomato soups made from our summer tomatoes, basil, and garlic. 
Local customers can shop any time at our on-farm, self serve stand in our green barn (on the left, 1/2 mile up Waterpenny Lane in Sperryville) in a peaceful open-air setting.  We are glad to report that our crew is fully vaccinated for covid-19!  To shop for plants to be picked up on the farm on Fridays, please order online Tuesdays-Thursdays using this store link.  
For a weekly box of vegetables in season from the farm, sign up for a 2021  share in Waterpenny Farm CSA (Community Supported Agriculture).  Our CSA is full for thie season
Shares started on June 2!  We are streamlining our CSA this year, and signups are now ongoing.  On-farm shareholders can pick up a pre-boxed share on Wednesdays or come pick up with a market-style setup on Thursday afternoons.  We are continuing our Wednesday afternoon Warrenton CSA dropoff at the Whiffletree Farm Store at 8787 Springs Road.  Arlington shareholders can pick up at our Saturday Arlington Courthouse Farmer's market.  We are discontinuing our Wednesday Arlington and Falls Church drop-off, focusing our weekday produce closer to home.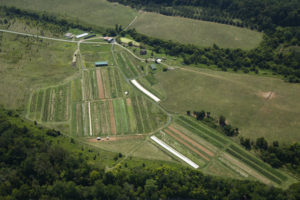 Do you want to work on our ecological, community-oriented family farm?
We have finished hiring interns for the 2021 season.  Interns start with a stipend of $1500/month and receive free housing and produce in season. Check out our internship page.  E-mail us at waterpenny@verizon.net for detailed information and an application for next year's growing season.
Farm News and notes:
In Fall 2019, we marked the 20th year of our farm, and we wrote a song to tell the story of our farm.  Here is a video of the song, recorded in our green barn and self serve stand.  You can also see a home-made video tour of the farm in its September 2019 peak, with dominoes and music!  Our sons worked hard on this; Eric played the Banjo.
Waterpenny Proves Farming Works in Rappahannock   This article tells the story of our getting started in farming and highlights of over 20 years farming in Sperryville, based on a presentation Rachel did for our local Seniors group, RappAtHome.

Meet us at Market!
We are at our two farmer's markets April 18 to November 30.  Arlington Courthouse Farmer's Market is Saturdays 8-12; our stand is at the corner of 14th and Uhle streets.  Takoma Park Farmer's Market, at Laurel and Carroll Avenues in Old Town Takoma Park, is Sundays from 10-2.
Click to find out more about us, our ecological growing methods, and news from the farm.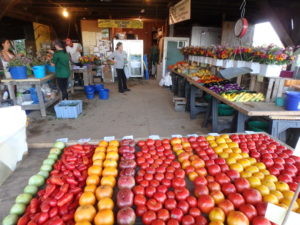 Check out our harvest schedule to see a basic outline of what we grow and when it is available.