We have been making our living farming in Sperryville since 2000.  Our farm uses ecological methods, building the soil using only organic inputs and no pesticides.
We are starting attending our Arlington and Takoma Park markets mid-April, with plants and greens for sale.  We currently have spinach and kale for sale at our self-serve stand in the green barn.  We have just installed two new walk-in coolers and now the barn is in order!
On-farm customers can order plants for their gardens each week through our online plant store.  Orders are due by Thursday evening for Friday afternoon, 2-6 pickup on the farm.
We will be hosting the 23rd annual Rappahannock Plant Sale on May 6th, from 9-2, this year. 
Interested in an on-farm CSA share of weekly fresh vegetables from the farm, June 1 to October 6? Check out our CSA page for more information.  You can now sign up online!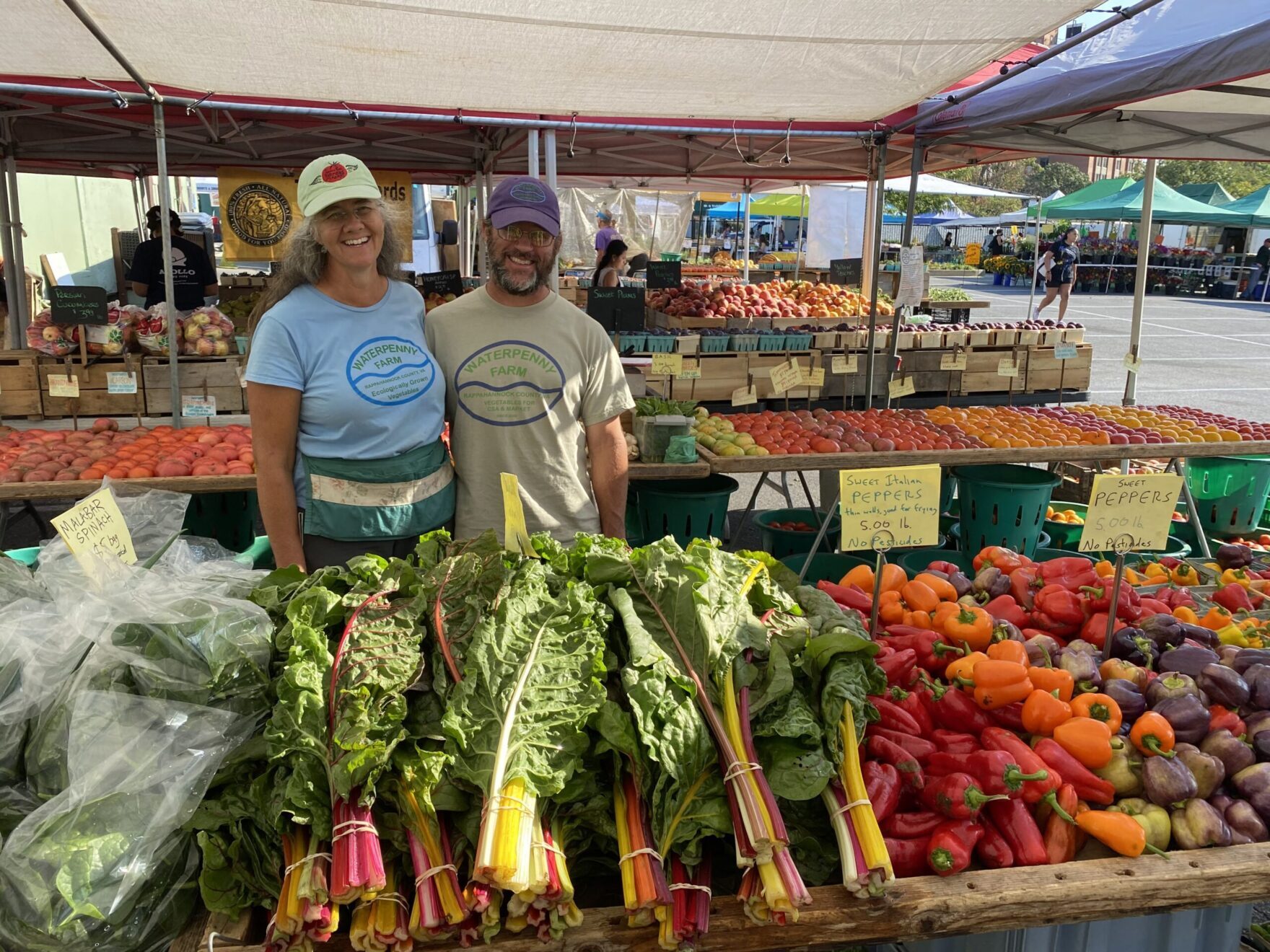 Rachel and Eric at market in Takoma Park
We grow everything we sell.  Ecologically grown, and pesticide free.
Our farm stand is closed for January; we anticipate opening mid-February.
To shop in season for our freshly harvested produce on the farm, come up Waterpenny Lane to the green barn.  Pull into the covered area, and find the bulletin board listing items for sale.  The glass cooler is stocked with greens and more perishable items, and others will be on tables in the barn;  prices are posted. We harvest for market and local customers and make fresh, seasonal flower bunches on Fridays. The change box and a locked box for payment are secured to the counter.  We take cash, checks, or VENMO for payment.  We operate on an honor system.  All are welcome; you don't need to be a CSA shareholder to shop.
Follow us on Instagram and facebook for the latest photos from the farm.
______________________________________________
We are proud that our CSA provides vegetables to our low income neighbors through a share program in partnership with the Rappahannock Food Pantry!
Or wonderful shareholders and customers are donors to the program, which directly funds reduced price farm shares for our community in need.  We also regularly donate our extras to the Pantry.  
______________________________________________
Farming works in Rappahannock County!
We have found success by growing using ecological methods to produce the best quality, most nutritious produce possible, and dircct marketing to customers at DC area Farmer's Markets and on the farm.  Read an informative article from the Rappahannock News about our farm's history here.  It was written in September 2020 by local writer Daphne Hutchinson marking our 20th year making our living farming in Sperryville.
___________________________________________
Homegrown videos:
Here is a video Farm Tour in Dominoes our sons made, with Eric playing the banjo!
Here is another video of a song commemorating our 20 year anniversary, telling the story of our farm.  "Twenty Years, Still Here"
___________________________________________
Watepenny Soils Film Feature
December, 2016
Here is a link to the short film "Starting with the Soil at Waterpenny Farm"  It features Rachel talking about our approach to farming and caring for the soil.  It also tells some of our farm's history and our business philosophy.  It was made made at Waterpenny Farm in June 2016 by Elinor Goodrich and Aaron Port, through the Natural Resources Conservation Service (NRCS) and the Virginia Cooperative Extension
___________________________________________
We've gone Solar!
April 24, 2013
In Spring 2012, we had a bank of 24 solar panels installed on our pole barn. 12 of these panels produce enough electricity for all or our farm use, so now our coolers, greenhouse and barn lighting are all solar powered! This portion was partially funded through a USDA grant. The other half are a personal investment, and produce roughly 1/3 of our home use electricity. We're excited about this new step in sustainability. In just a year, we've saved over 12 tons of Carbon Dioxide from going into our environment, and saved money on our power bills as well. The investment should pay for itself in 10 years.