Welcome to Waterpenny Farm!  We've been farming in Sperryville since 2000.
We are harvesting spinach and other greens as available on the farm for sale in the barn this winter.  Check the sign at the end of our drive for availability.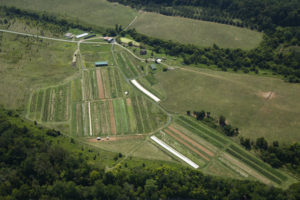 Come work and learn with us!
We are now hiring for the 2022 growing season.  Interns are paid a starting stipend of $1800/month and receive free housing on the farm and produce in season. Check out our internship page.  E-mail us at waterpenny@verizon.net for detailed information and an application for this year's growing season.
Here are the latest photos from the Waterpenny Farm Facebook page:
Farm News and notes:
In Fall 2019, we marked the 20th year of our farm, and we wrote a song to tell the story of our farm.  Here is a video of the song, recorded in our green barn and self serve stand.  You can also see a home-made video tour of the farm in its September 2019 peak, with dominoes and music!  Our sons worked hard on this; Eric played the Banjo.
Waterpenny Proves Farming Works in Rappahannock   This article tells the story of our getting started in farming and highlights of over 20 years farming in Sperryville, based on a presentation Rachel did for our local Seniors group, RappAtHome.

Meet us at Market!
We are at our two farmer's markets April 16 to November 30.  Arlington Courthouse Farmer's Market is Saturdays 8-12; our stand is at the corner of 14th and Uhle streets.  Takoma Park Farmer's Market, at Laurel and Carroll Avenues in Old Town Takoma Park, is Sundays from 10-2.
Click to find out more about us, our ecological growing methods, and news from the farm.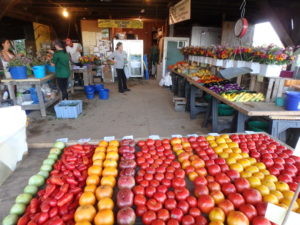 Check out our harvest schedule to see a basic outline of what we grow and when it is available.