At the Markets
Takoma Park Farmers Market, MD | Sundays 10 a.m. – 2 p.m.
@ intersection of Carroll Ave At Laurel Ave | Map
Arlington Farmers Market, VA Saturdays 8 AM -Noon.
@ Arlington County Courthouse, N. Courthouse Rd and N. 14th st.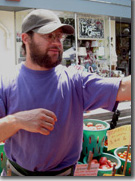 What We Sell
We sell what we grow at Farmers Markets every weekend from mid April through November. Our two Farmers markets are Arlington, VA on Saturdays, and Takoma Park, MD, on Sundays.
In April and May we sell a wide variety of flower, herb, and vegetable plants for your garden, as well as lettuce, spinach, Kale, herbs, and other spring greens.
June brings Squash, cucumbers, and cut flowers. See our Harvest Schedule for an approximate list of our main season's offerings.

As summer progresses we harvest a wide variety of vegetables. For example, we grow 30 different kinds of tomatoes, including heirloom and cherry tomatoes.
The season's peak is usually in early September, though we continue to harvest a great variety of summer vegetables until we have a frost, usually sometime in October. We continue to harvest salad greens, cooking greens, winter squash, and herbs through November.