Signups start March 1.  On-farm shareholders can pick up with a market-style setup on Thursday afternoons.   We have discontinued our Wednesday drop-offs, focusing our weekday produce closer to home.
We are well-equipped to bring yo

u safe, fresh produce with a clean, simple supply chain– direct from our farm to you!

For a weekly share of fresh vegetables from the farm, buy a share in Waterpenny Farm CSA (Community Supported Agriculture).  In 2023 we will offer 19 weeks of vegetables from June 1 through October 5.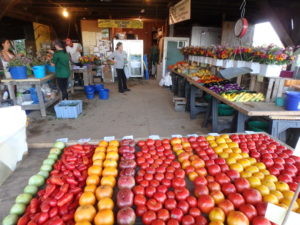 Shareholders pick up on the farm in our green barn on Thursdays.  Shares picked up on the farm are $590 for a full share; $325 for a half share.  We can pre-box shares for a small  add-on fee upon request.
Your Weekly Share
We offer full shares for a family of 4 or 2 who eat a lot of vegetables, and half shares for 1 or 2 people. Shares include recipes and farm updates.  Here are some typical share examples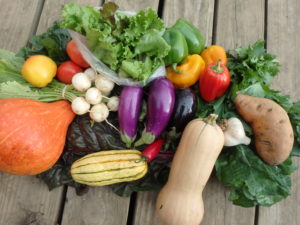 Shareholders receive a weekly selection of the produce we grow, from early June through early October.  See our Harvest Schedule for details.  A biweekly newsletter with recipes, farm notes, shareholder contributions, and pictures from the farm is included.  We welcome visits to our fields as well.
Shares start lighter and leafier in June and increase in size and variety with the growing season, with peak amounts in August and September.  Shareholders can purchase bulk produce like tomatoes and winter squash in season to preserve for the winter.
Why Support a CSA Farm?
Commit to financially supporting a local farm for the entire growing season.
Learn about how healthy food can be produced while building soil and benefiting the local ecosystem.
Develop a relationship with the people who grow your food through a bi-weekly newsletter and visits to the farm.
Receive fresh, locally grown, pesticide-free produce that exceeds organic standards each week.
We are proud that our CSA provides vegetables for the Rappahannock Food Pantry.  Pleas consider supporting shares of fresh vegetables for our neighbors in need when you sign up for a share.