We will start CSA signups for 2020 in February.
Waterpenny Farm CSA newsletters 2019:
News10 2019 News9 2019 News 8 2019 News7 2019 News6 2019 #5 News5 2019 #3 July 3,  #2 June 19, #1 June 5
For a weekly box of vegetables from the farm, buy a share in Waterpenny Farm CSA (Community Supported Agriculture).  In 2019 we will offer 19 weeks of vegetables from June through early October.  The CSA is full for the 2019 season.
Our Wednesday delivery sites are in Arlington (at 3434 Washington Boulevard, Falls Church (at the General Dynamics building, 3150 Fairview Park Drive) and Warrenton at Whiffletree Farm Store at 8717 Springs Road.   Our shares are also delivered at Food For Others in Fairfax for our low-income share program. We also serve the Rappahannock County area through a Thursday CSA pickup and an on-farm self-serve stand in season.
Shares delivered to Arlington, Falls Church, and Warrenton are $580 for a full share; $340 for a half share.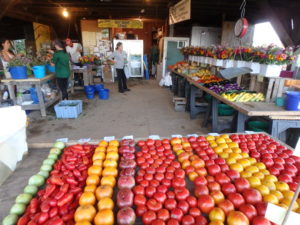 On-farm shareholders pick up in our green barn on the farm in a market-style setup on Thursdays.   Shares picked up on the farm are $525 for a full share; $285 for a half share.
Your Weekly Share
We offer full shares for a family of 4 or 2 who eat a lot of vegetables, and half shares for 1 or 2 people. Shares include a biweekly newsletter with recipes and farm updates.  Here are some typical share examples
Shareholders receive a weekly bag of the produce we grow, from early June through early October.  See our Harvest Schedule for details.  A biweekly newsletter with recipes, farm notes, shareholder contributions, and pictures from the farm is included.  A shareholder event is hosted on the farm each year.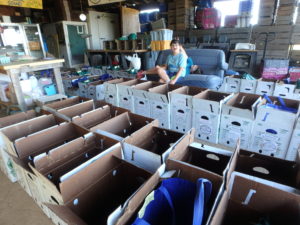 Shares start lighter and leafier in June and increase in size and variety with the growing season, with peak amounts in August and September.  Shareholders can purchase bulk produce like tomatoes and winter squash in season to preserve for the winter.
Food Bank Partnership
Food Bank CSA partner is Food For Others in Fairfax, VA.  Our low-income share program provides low-income families with vegetables they pick up at community centers, where they receive free cooking classes on using fresh vegetables. As a farm, we donate thousands of pounds of extra produce to local and regional food banks and pantries Food Banks, in addition to providing CSA shares for use by selected families and in the Food Bank's education outreach programs. CSA Shareholders can help neighbors in need by contributing to the program when they purchase a share.
Why Support a CSA Farm?
Commit to financially supporting a local farm for the entire growing season.
Learn about how healthy food can be produced without damaging the environment.
Develop a relationship with the people who grow your food through a bi-weekly newsletter and visits to the farm.
Receive fresh, locally grown, pesticide-free produce each week.
2018 newsletters: