Shareholder notes:  Shares start June 6.

Our squash harvest is rolling in, and we have some great cucumbers now, too.    Squash and cucumbers (and later, tomatoes) are best stored at room temperature to retain flavor.  Wash them immediately before using.
Types of summer squash are:  zucchini, yellow zucchini, mid-east zucchini, patty pan, and yellow squash.  The zucchinis and patty pans are firmer and good for grilling or cutting into "Pasta;" the yellow squash is milder and good sauteed and for casseroles; they are good mixed together!
Types of cucumbers are: Picklers (short and stripey), Asian (long and crinkly, thinnest skin), burpless (shiny skin, most susceptible to cucumber beetle damage), and slicers (darkest green, thickest skin) all can be used in salads or eaten raw.  The asian and burpless kinds are the most perishable and sweetest, so use them first.
We still have lots of leafy greens, like lettuce, kale, and chard.  We have rinsed all leafy produce, but it should be washed before using.  Rinse in a basin of cool water (soak greens if they're wilted and they will perk back up!)  if not using immediately, spin or towel dry the greens and wrap in a clean towel inside a plastic bag or container in the crisper drawer of your refrigerator.
Garlic and sweet onions are in now, and you'll be getting both alternating in your shares.  The fresh garlic is great stored on the counter; sweet onions should be refrigerated.
Basil is best stored at room temperature, with the stems in a glass or vase.  They will turn black if refrigerated.  Other herbs can be stored like greens in the refrigerator.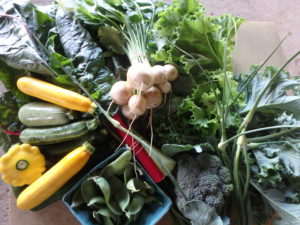 For a weekly box of vegetables from the farm, buy a share in Waterpenny Farm CSA (Community Supported Agriculture).  In 2018 we will offer 19 weeks of vegetables from June through early October.  The CSA is full for the 2018 season.
Our Wednesday delivery sites are in Arlington (at 3434 Washington Boulevard) and Warrenton at Whiffletree Farm Store at 8717 Springs Road.   We also serve the Rappahannock County area through CSA and an on-farm self-serve stand in season.
Shares delivered to Arlington, Warrenton, and Lorton are $580 for a full share; $340 for a half share. Shares picked up on the farm are $525 for a full share; $285 for a half share.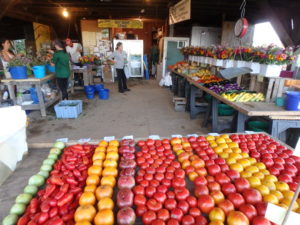 On-farm shareholders pick up in our green barn on the farm in a market-style setup on Thursdays.
Your Weekly Share
We offer full shares for a family of 4 or 2 who eat a lot of vegetables, and half shares for 1 or 2 people. Shares include a biweekly newsletter with recipes and farm updates.  Here are some typical share examples
Shareholders receive a weekly bag of the produce we grow, from early June through early October.  See our Harvest Schedule for details.  A biweekly newsletter with recipes, farm notes, shareholder contributions, and pictures from the farm is included.  A shareholder event is hosted on the farm each year.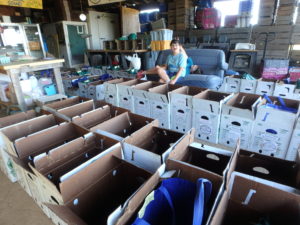 Shares start lighter and leafier in June and increase in size and variety with the growing season, with peak amounts in August and September.  Shareholders can purchase bulk produce like tomatoes and winter squash in season to preserve for the winter.
Food Bank Partnership
This year, our Food Bank CSA partner is Food For Others in Fairfax, VA.  (We worked in partnership with the Capital Area Food Bank's Northern Virginia branch form 2000-2017) Our low-income share program provides low-income families with vegetables they pick up along with other food assistance. As a farm, we donate thousands of pounds of extra produce to the Food Bank, in addition to providing CSA shares for use by selected families and in the Food Bank's education outreach programs. CSA Shareholders can help neighbors in need by contributing to the program when they purchase a share.
Why Support a CSA Farm?
Commit to financially supporting a local farm for the entire growing season.
Learn about how healthy food can be produced without damaging the environment.
Develop a relationship with the people who grow your food through a bi-weekly newsletter and visits to the farm.
Receive fresh, locally grown, pesticide-free produce each week.