Welcome to Waterpenny Farm!  We've been farming in Sperryville since 2000.
We are now taking pre-orders for our Arlington and Takoma Park Farmer's markets as well as for on-farm pickup.  Pre-orders for both markets should be placed by 1 PM on Fridays.  On-farm orders should placed by Thursday at 5.  We will re-set inventory and re-open the store on Monday afternoons.   You can order plants and some produce ahead, and our markets and on-farm stand are also open for walk-up sales.  
The store has a shopping cart setup.  You shop, adding items to the cart– find what you are looking for by using the filters (you might need to clear them first).  When you shop, select your preferred pickup location (you might need to scroll to find it).  Click the cart at checkout, and you can choose to pay at pickup or by credit card; we appreciate your help covering credit card fees!
Arlington Courthouse Market (Saturdays 8-12) and Takoma Park Market (Sundays 10-2) pickups are during markets.  On-farm pickups are Fridays from 2-4 PM on the farm.  Our self-serve stand with greens, herbs, and sprouts is open in the green barn as well.  You can pre-pay with a credit card or pay with a check when you pick up your order. 
Wondering what plants we are growing?  Here is a link to a spreadsheet of the plants we are growing for sale this season (it has 3 pages-Vegetables, Herbs, and Flowers).  We have multiple plantings of herbs, flowers, and vegetables like lettuce, tomatoes, peppers, eggplant, cucumbers, and squash, so if something is sold out in the store, check back next week and we should likely have it.  Plants are in unexpectedly high demand this year, and we are selling out of the weekly supply of some things.

You can come to the farm to shop for food, but not for plants.
We are open at our self serve stand in the green barn on the farm, with spinach, kale, sprouts, and tomato soup for sale.  We are cognizant of concerns about spread of COVID-19 and are pre-bagging the greens with clean hands to avoid having hands unnecessarily touch the greens.  We are sanitizing surfaces and handles regularly and hand-washing materials are available at the white sink in the barn.  Customers aren't allowed in the greenhouses, and should pre-order plants using the online store to maintain safe and efficient access to the good things we grow.
See a home-made
video tour of the farm
in its September 2019 peak, with dominoes and music!  Our sons worked hard on this; Eric played the Banjo.
The CSA is full for the season! Each year we offer 19 weeks of vegetables from early June through early October. We have Wednesday delivery sites in Warrenton (at Whiffletree Farm), Arlington (at 3434 Washington Blvd.), and in Falls Church (at 3017 Fairview Park Dr.). Thursday pickup is at our farm in Sperryville.   You can register online or email us for a mail-in registration form. 
Do you want to work on our ecological, community-oriented family farm?
We are now hiring for the 2020 Internship season!  Our well-paid internships include housing on our farm, and run from April to November.   Click here for internship information!
   Email us at Waterpenny@verizon.net for and application.  
Meet us at Market!
We are at our two farmer's markets April 18 to November 30.  Arlington Courthouse Farmer's Market is Saturdays 8-12; our stand is at the corner of 14th and Uhle streets.  Takoma Park Farmer's Market, at Laurel and Carroll Avenues in Old Town Takoma Park, is Sundays from 10-2.
Click to find out more about us, our ecological growing methods, and news from the farm.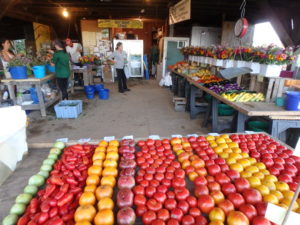 Check out our harvest schedule to see a basic outline of what we grow and when it is available.