Follow us on Instagram and facebook for the latest photos from the farm.  Here is the latest on social media!

______________________________________________________
We are proud that our CSA provides vegetables to our low income neighbors through the Family Fresh program in partnership with Food For Others in Fairfax and now through a new partnership with the Rappahannock Food Pantry!
Our low income shares program has expanded to 26 shares in 2020, thanks to generous donations from our CSA and online store customers!  Donations to the program, which directly funds reduced price shares for our community in need were more than double those of previous years.
Our low-income shares program and the new partnership with the Food Pantry was featured in "the Rapp" in the June 11th Rappaannock News. See the article here.
__________________________________________________
Waterpenny Farm CSA newsletters 2019:
__________________________________________
Shop on the farm!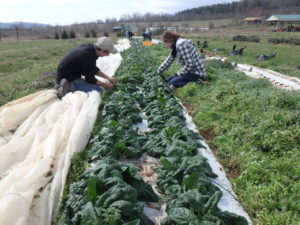 We are in full swing at our self serve stand in the green barn on our farm.  We have added a new fridge for eggs, and are keeping it stocked daily.
To shop in the farm, come up Waterpenny Lane to the green barn.  Pull into the covered area, and find the bulletin board listing items for sale.  The glass cooler will be stocked with greens and squash, with prices posted as well.  The change box and a locked box for payment are secured to the counter.  We operate on an honor system.  All are welcome.
__________________________________________
Watepenny Soils Film Feature
December, 2016
Here is a link to the short film "Starting with the Soil at Waterpenny Farm"  It features Rachel talking about our approach to farming and caring for the soil.  It also tells some of our farm's history and our business philosophy.  It was made made at Waterpenny Farm in June 2016 by Elinor Goodrich and Aaron Port, through the Natural Resources Conservation Service (NRCS) and the Virginia Cooperative Extension.
_________________________________________________
Canned tomato soup
August, 2019
Our latest batch of red and yellow tomato soups are now ready for sale at market and on the farm. They are a tasty and simple recipe– our tomatoes, basil, and garlic, with Sea salt and organic vinegar. They make a great holiday gift or meal for the cool days ahead.
---
We've gone Solar!
April 24, 2013
In Spring 2012, we had a bank of 24 solar panels installed on our pole barn. 12 of these panels produce enough electricity for all or our farm use, so now our coolers, greenhouse and barn lighting are all solar powered! This portion was partially funded through a USDA grant. The other half are a personal investment, and produce roughly 1/3 of our home use electricity. We're excited about this new step in sustainability. In just a year, we've saved over 12 tons of Carbon Dioxide from going into our environment, and saved money on our power bills as well. The investment should pay for itself in 10 years.